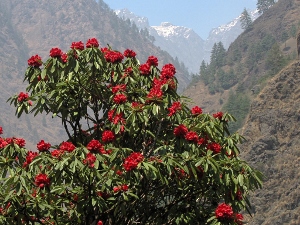 This fantastic trek combines the Manaslu Circuit trek with a week in the very remote and unspoilt Tsum Valley. A total of 20 days trekking.
We feel very privilaged to have special permits to trek both the Manaslu Circuit and the Tsum Valley, both are areas that see few trekkers each season and we are very pleased to be able to offer this trek to a small group each season.
The package is for 29 days in Nepal starting and ending in Kathmandu and will include 4 days in Kathmandu and 3 days relaxing in the pleasant lakeside resort town of Pokhara immediately following the trek.
The Manaslu valley is remote and culturally fascinating with strong and continuing links with Tibet. We will be crossing the Larkya-La, a high pass at 5200m with spectacular views of Mt. Manaslu the eighth highest mountain in the world and if time and group fitness allows we will also visit Manaslu Base Camp.
The remote Tsum Valley has only recently opened to trekkers (2008) and is a Himalayan Pilgrimage valley situated in the northern Gorkha area. The name "Tsum" means vivid which describes perfectly the impression one gets almost immediately when entering this very special place. This untouched valley has remained vitually unchanged for centuries and has been described as both the "Garden of Eden" and "Shangri-la" by some of it's few western visitors. Accommodation will be in tents whilst in the Tsum Valley as there are as yet no lodges, (although we believe there is some lodge construction under way).
The local inhabitants are mostly of Tibetan origin and speak a unique dialect. The trails here are strewn with artistic chortens and are lined with Mani walls made of thousands of carved stone slabs adorned with drawings of deities and inscribed with prayers. The valley has a long history of Buddhism and the important Buddhist saint Milarewa is believed to have meditated in the mountain caves here.
The ancient remains of the Tsum kingdom are still visible today and due to it's remoteness and inaccessibility this sacred valley and it's people have been bypassed by mainstream developement which has resulted in the unique culture of the valley remaining largely intact.
Whilst we are in the Tsum valley we will visit Mu Gompa where there is a large monastery with over 100 monks, there is also an ancient Gompa which was visited by David Snellgrove in 1956 (see Himalayan Pilgrimage).
At this point in the trek we are virtually surrounded by Tibet and we will have many tantalising views of the borders.
Following our side trip into the Tsum valley we will continue trekking the inspiring Manaslu circuit to the road head at Dharapani where our transport awaits to drive us to Pokhara via Besisahar.
Below is the complete itinerary for this very special trek.
Day 01: Arrival in Kathmandu and transfer to the Hotel
Day 02: Free day in Kathmandu and prepare for the trip (B)
Day 03: Drive to Arughat (700m) 7-8hrs ( B.D )
Day 04: Arughat to Soti Khola (815m) 5-6hrs (B, L, D)
Day 05: Soti Khola to Machi Khola (900m) (B, L, D)
Day 06: Machi Khola to Jagat (1340m) (B, L, D)
Day 07: Jagat to Eklebhatti (1600m) (B, L, D)
Day 08: Eklebhatti to Chumling (2363m.) (Start Tsum valley trek - stay in Tented camp B, L, D)
Day 09: Chumling to Rechen Gompa (3010m) Tent camp (B, L, D)
Day 10: Rechen Gompa to Mu Gompa (3700m) Tent camp (B, L, D)
Day 11: Mu Gompa to Chhemdo (4110m) Tent camp (B, L, D)
Day 12: Chhemdo to Nile (3361m) Tent camp (B, L, D)
Day 13: Nile to Dumje (2240m) Tent camp (B, L, D)
Day 14: Dumje to Lokpa (2240m) Tent camp (B, L, D)
Day 15: Lokpa to Deng (1860m) ( Tsum Valley End - Stay lodge (B, L, D)
Day 16: Deng to Namrung (2600m) (B, L, D)
Day 17: Namrung to Lo (3180m) (B, L, D)
Day 18: Lo to Sama Gaon (3580m) (B, L, D)
Day 19: Acclimatization day in Sama Gaon (B, L, D)
Day 20: Sama Gaon to Samdo (3875m) (B, L, D)
Day 21: Samdo to Dharamsala (4400m) (B, L, D)
Day 22: Dharamsala to Bhimthang (3590m) cross Larkya-La Pass (5280m) Stay lodge (B, L, D)
Day 23: Bhimthang to Dharapani (1967m) (B, L, D) Annapurna Start
Day 24: Dharapani drive by jeep to Besisahar (4 hrs) and drive to Pokhara ( 3hrs ) (B, L)
Day 25: Pokhara explore or relax
Day 26: Pokhara explore or relax
Day 27: Pokhara to Kathmandu by Buddha Air flight 9:15 am rest of day free in Kathmandu followed by evening dinner at home with Dave's Nepali family
Day 28: Free day in Kathmandu for shopping
Day 29: Final departure to the Airport
Cost Includes:
~ Airport Pick up and drop off by private Transfer
~ Kathmandu / Pokhara hotel 4* basis bed and Breakfast
~ Dharapani To Pokhara by Jeep Drive
~ Kathmandu To Arughat by land cruiser
~ Tsum Valley Special Trekking permit
~ Manaslu Special Trekking permit
~ Annapurna Conservation Area Project (ACAP) entry permit fee
~ Manaslu Conservation Area Project (MCAP) entry permit fee
~ Day 3 to Day 7 Stay in best available Lodges
~ Day 8 to Day 14 Stay in Tented Camp
~ Day 15 to Day 23 Stay in best available lodge
~ Stay Lodge trek and Stay Tented camp Accommodation 3 meals each day entire trekking trip
~ 7 Days stay Tented Camp
~ 13 Nights Stay Lodge Trek
~ An English speaking Guide & Trekking crew
~ All program according to itineraries
~ Wages, equipment, insurance for trekking crew
Cost excludes:
~ Nepal entry visa fee (available in airport on arrival if not obtained in home country)
~ Kathmandu/Pokhara Lunch and Dinner (L, D)
~ Travel Insurance and medical evacuation in case of emergency (Compulsory)
~ Personal spending money and All bar bills, i.e. Soft/hard drinks.
~ Tips to staff etc.
To book please complete the
Booking Form
. 20% deposit is required to confirm booking.