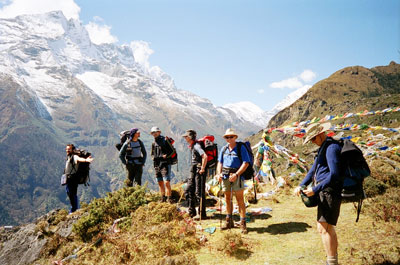 It is believed in many parts of the world that the fresh, cool air coming off mountains can take off years of exhaustion from a person. It is equally true that of all the beauty and splendour in the world that of its highest mountains is incomparable.
Trekking - walking in the mountains - is the perfect way to reconnect - with yourself, nature, a companion. The combination of good exercise, crystalline air, blue skies and towering snow-capped vistas, local culture and good companions is such a perfect combination of rejuvenation and adventure that people who do it once can't seem to stop!
It's very important to understand that your experience of the mountains in Europe, North America, and Australia are not a reflection of what you will experience here. On the most common trekking route, the Annapurna Circuit, for example, the highest point, which thousands of trekking tourists cross every year, is Thorong La (Pass). At 5,416 m, this is higher than the classic highest peak in Europe, Mt Blanc (4,807 m), and close to the height of the new Highest European mountain Elbrus (5,642 m).
Unlike in Europe, where the tree-line and snow-line are both much lower, sometimes a couple of thousand metres, than those in Nepal, people live and walk through the Himalaya, even close to 5,000 m, raising yak and sheep, and growing crops such as potato, barley, buckwheat, and in warmer months or in greenhouses (in Tibet, especially) vegetables too.
So, as long as you are fit and careful about not gaining altitude too fast, most treks that go over higher passes should be challenging, but far from crazy goals.