Trekking in Nepal - Items filtered by date: March 2014
%PM, %16 %456 %2014 %20:%Mar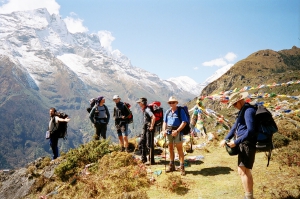 Britains Daily Mail newspaper recently listed the world's 10 top treks. The first two are in Nepal and you can do them both with Skyline Treks and Expeditions.
We have been running the Everest Base Camp trek (#1) since our business was first established some 16 years ago. Trek #2 is the magnificent Gokyo Lakes Trek and we have been doing that one for almost as long as the Everest Base Camp trek.
We also combine the two treks, so you can do them both in one go. The two areas are linked by a high pass crossing. The pass is called Chugyima-La or Tsho-La (commonly referred to as Cho-La) and is at an altitude of some 5430m. In good weather the pass can be crossed by most fit and acclimatised trekkers and is not a technical mountaineering undertaking. It is rated hard though and should not be underestimated and certainly not attempted in bad weather or after heavy snowfall.
This October we are running a special "one off" trek combining Everest Base Camp and Gokyo Lakes without the hard pass crossing. Instead we will trek back down to Tengboche Monastery and take the less travelled and easier route through beautiful Sherpa villages until we rejoin the main Gokyo trail above the Sherpa capitol of Namche-Bazaar.
This trek is for 27 days from October 4 until October 31 Kathmandu-Kathmandu and is designed for the "over 50's" age group with a slower pace and plenty of acclimatisation days. The trek is Lodge based so there is no camping.
For a complete itinerary and costings please email me dave@skylinetreks.com.au or give me a call on 61 0416129818 for an informal chat.