Trekking in Nepal - Items filtered by date: May 2019
%AM, %10 %736 %2019 %02:%May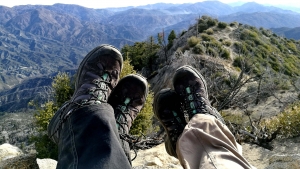 I'm often asked the question, "what footwear do I need for the Everest Base Camp trek?". A fairly simple question, but with no simple answer.

If the weather is kind with little or no precipitation, good trail shoes will do the job. Shoes like Merrill Moab GTX or Salomon X Ultra GTX. Scarpa Vortex are another good shoe also Goretex (GTX) lined.


These walking shoes are well made, offer good grip on most surfaces and are waterproof. Keep in mind that shoes offer little or no ankle support, so if you have a tendency to strained or sprained ankles, then I would definitely recommend good hiking boots from the start of the trek.


The Everest trail is quite rough terrain and you will be walking on uneven and rocky glacial moraine as you get closer to Base Camp. Glaciers are constantly moving of course, so the trail changes frequently so it never really gets worn smooth by the constant foot traffic of people, yaks and donkeys using the trail.I personally use both, shoes give my feet a bit of a break from the restriction of my Scarpa SL boots, which are amazingly comfortable and like walking with an old friend. However, where weather and trail conditions allow, my shoes are fine. I like FiveTen Camp Four when I can get them. Their Stealth Rubber soles give superior grip, but there is a down side in that they are soft and therefore only last a couple of treks. Whatever you decide is best for you, be sure to give them plenty of time to adjust to your feet BEFORE leaving home for your adventure. Wear them in on your training sessions well before your trek.

Another important consideration are socks. The two pair system suits me when I am wearing boots, which is most of the time in the mountains. A lightweight liner sock next to my feet paired with a good quality trek sock works really well.

Again, I will mention a couple of makes that I use, but there are many others on the market that I am sure are just as serviceable. I am not endorsing any one brand over another, these just happen to be brands that I use and am happy with. Thorlos have been consistently good, as have Wigwam liners. Australia's Mountain Design's also sell very good socks under their own brand name.

Whatever system you decide upon, I wish you Great Trekking and if you are not trekking with Design Himalaya, try to have a good time anyway.
Dave.